Large Orange Sulfur Butterfly - HD Sized!

Orange Sulphur Butterfly on Rosemary
Cliff from bugguide.net ID's this as an Orange Sulfur, Colias eurytheme, "Worn and faded. Note rounded apex of FW and shape of wings." Wimberley 2016 trip. Nikon D750 camera with 200mm macro lens, 1/3200, f11, ISO 640, mounted on a monopod. Orange Sulphur - Hodges#4210 (Colias eurytheme)

Sleepy Orange Sulphur Butterfly
A new one for me! This guy made a brief visit to the backyard August 2016 on a cloudy day. Sleepy Orange - Hodges#4242 (Abaeis nicippe). Bugguide link here. I was surprised to see this was shot at f4.2! 1/500s, ISO 460, matrix meter mode, hand-held.
Below: I believe these next two are Dog Face butterflies. Looks like Dogface is preferred. October, 2003, Wimberley Texas.

Large Orange Sulfur Butterfly, Phoebis agarithe
Backyard 9/9/2016. This one appeared almost white in the sunlight. I've brought out the colors from a significantly underexposed shot with Photoshop.
It's dining on the nectar from a zinnia flower. Here's the bugguide link.
.
Southern Dogface Butterfly
You can see the "dog face" pattern, which is on the top side of the wings, via the backlight. 1/320 sec. at f20, ISO setting 1250!
Per Gil: Your "Dogface butterfly" is actually a male Southern dogface, Zerene cesonia. The flower it is on is definitely Salvia sp....

Orange Sulphur
This one was different, shot with a Nikon D7200, but with the Nikon 300mm f2.8 VI II lens with the 2x teleconverter TC-20E III, f7.1, 1/2000, ISO 400, no flash, monopod mounted (for sure!) Most likely a white form Orange Sulphur female per the bugguide. Hill country 2016.

Sulphur with Very Yellow Wings...
Notice the "less-white" wing color as compared with the image above. No flash. D7200, 300mm f2.8 with 2x extender. This is an Orange Sulphur per bugguide. Hill Country 2016.

Sulphur
I'd guess this is also an Orange Sulphur. February 2016. This was with the Nikon D7200, 200mm macro lens, and SB-800 fill flash. Another very yellow and pink specimen, characteristic of newly emerged adults. Texas Hill Country 2016.


Backyard Sulfur Butterfly- 8/7/2016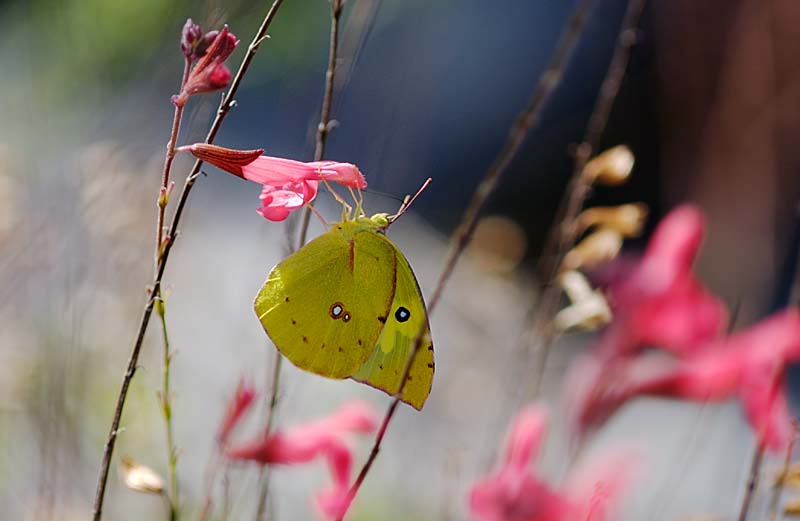 Dreamy Dogface Sulfur Butterfly
I like the soft "bokeh" (out of focus images) in the picture (1/2000 sec. exposure at f3.2). The flowers are pink Gregg salvias and this was taken at Starry Nights
Dick's Pix (Dick Locke's Image Page)
Copyright © by Dick Locke. All rights reserved.
Image Use Information