Planetary Alignment
Copyright © 1998-2014, Dick Locke. All Rights Reserved. Contact and Image Use Information
Here are March 2012 Conjunction Pictures
November 2013 Conjunction Pictures are here

Venus and Jupiter Conjunction 8/18/14
The planets were less than one degree apart, with Venus being on the lower left. They will also get together (even closer) on June 30, 2015. Watch this space ;-)
That's Procyon upper right; alpha Canis Minoris. Tripod mounted Nikon D7000, Nikon 18-200mm lens at 26mm 1.10s f3.8 ISO 1600 at 6:17 a.m. Had to battle lens fogging, mosquitoes, and muggy conditions to get this one, but at least I didn't have to go far. Interesting facts about Procyon, at mag .34 it's the 8th brightest star and is only 11 light years away, making it one of our closest neighbors.
Planetary Conjunctions. Scroll down to see all the planetary alignment pictures.
Below: Top to Bottom: Venus, Mars, Saturn, Crescent Moon, and (to right) Mercury. Olympus C4040, 71mm focal length, f2.6, 1 second exposure, processed in photoshop to enhance visibility of Mars & Mercury Moon was about 39 hours old, 2.7% illuminated.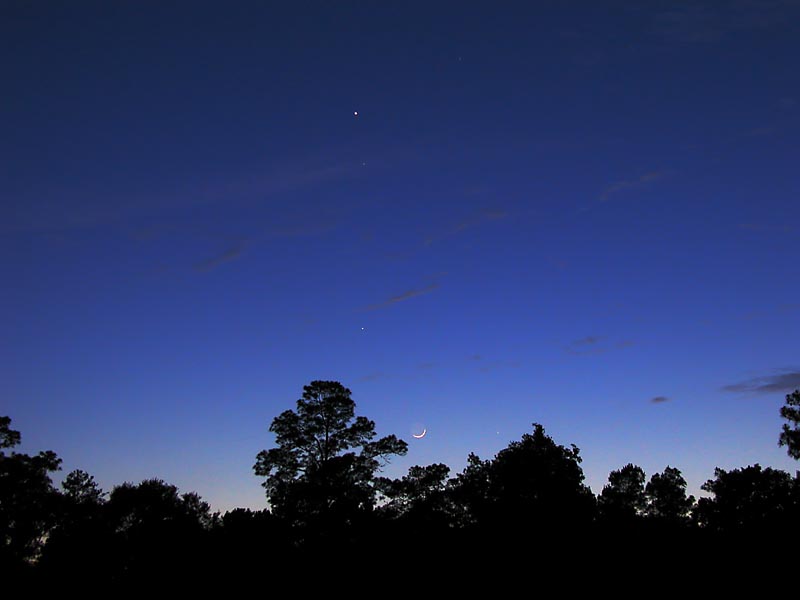 Click here for: Unprocessed Crop of Moon, Saturn, and Mercury from above
Below: Planet shot from North Houston Astronomy Club's Neal observing site on 5/11/02.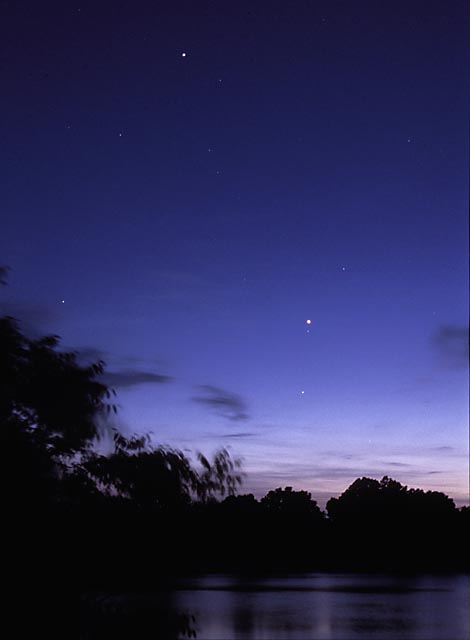 (Above) Nikon F3, 35mm f1.4 lens @f4, approx. 8 second exposure, Kodak E200 slide film, processed in Photoshop to enhance Mercury's visibility.
Here's the picture above labeled with the planets & a few stars.
Below: picture from 5/6/02.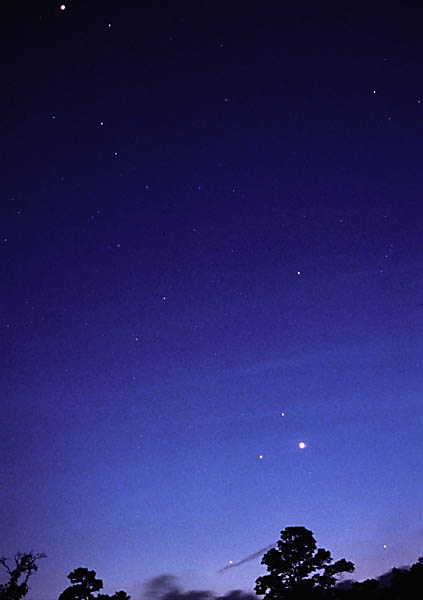 Above: Nikon F2, 50mm f2.8 macro lens @ f4, about 8 seconds on Kodak E200 slide film.
(Amazing amount of detail recorded, there are magnitude 5 stars on the slide!)
Nikon Coolscan IV ED, Photoshop dust spot & cleanup, curves, grain surgery plugin, resize, and unsharp mask.
Click here for a version of above with the planets named.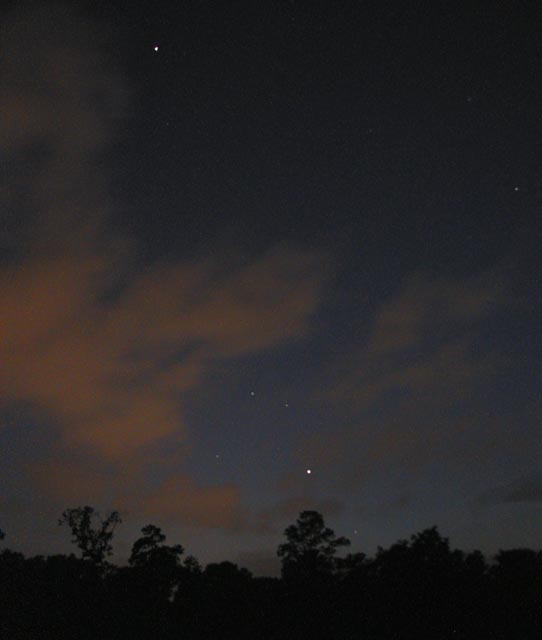 Above: Olympus C4040 digital camera, 3 second exposure @ 35mm zoom setting. Taken 4/30/02, 35mm, ISO 100, substantial cleanup in photoshop. Got Jupiter in this one for Aaron.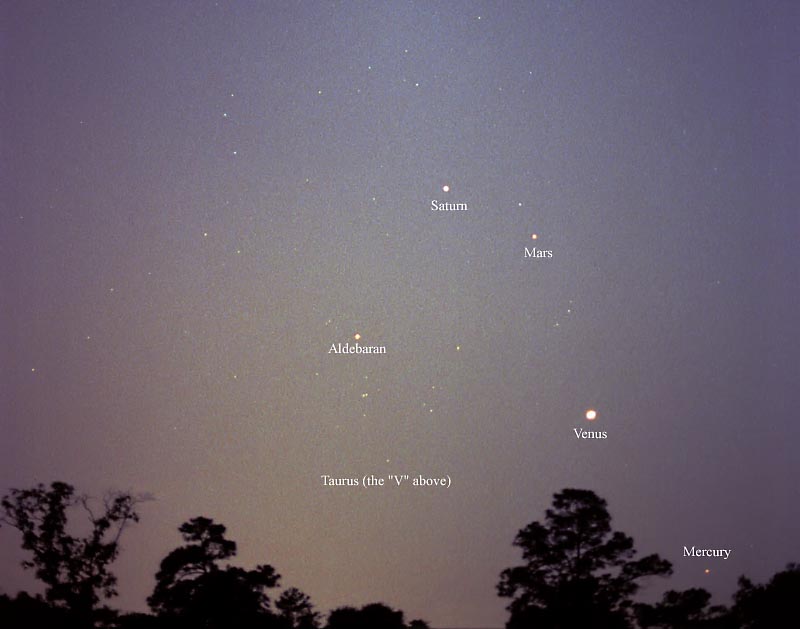 Mercury, Venus, Mars, and Saturn on April 29, 2002
(Aldebaran is the brightest star in Taurus, in response to a couple of questions!)
This was taken on a small hill, looking across a soccer field, at my daughter's old elementary school. About 4 seconds on Fuji 800 print film. Olympus OM2n, 50mm f1.8 lens wide open. Jupiter is out of the frame, above left. Hint: You need about a 35mm lens to be able to include Jupiter.

If you've looked this far, check out the links below for close-ups of the planets.


NHAC - moon and mercury pictures
Images Copyright © by Dick Locke. All Rights Reserved.
Contact and Image Use Information