Venus and the Moon Pictures
Venus and the Moon setting over the Neal Site's Pond
All images on www-dl-digital.com Copyright © 1998-2006, Dick Locke. All Rights Reserved. Contact and Image Use Information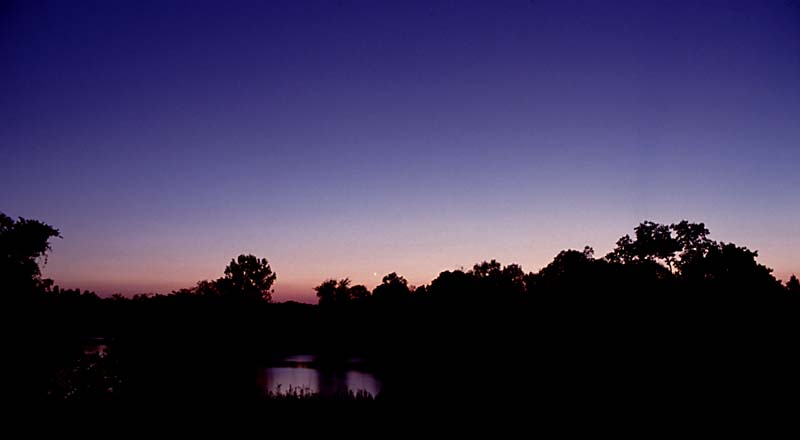 Venus Setting at NHAC Neal Observing Site
This is a wide-angle shot of Venus setting over the trees at the North Houston Astronomy Club's "Sammy" Neal observing site. Taken Saturday, August 26th, 2000, an hour or so after sunset. Note you may need to scroll horizontally to see it all... Venus is just to the right of the pond, just barely above the trees. More details below if interested.
Details (above): Kodak Elite 200 slide film, Olympus OM-2n camera with 35mm f2 lens, polarizing filter, auto-exposed for about 20 seconds, Minolta Dimage Scan Dual negative scan. Processed in Photoshop: Dust specks removed, cropped, levels, light gaussian blur applied to sky, light unsharp mask (pixel width = 1, threshold = 5) applied to whole picture after resizing to 800 pixels width.
Copyright © 2000- 2006 Dick Locke. All Rights Reserved.
Contact and Image Use Information


hits since 6/13/2003 update.