Broad-banded Watersnake Pictures
Copyright © 2004-2008, Dick Locke. All Rights Reserved. Contact and Image Use Information

Scroll down for the 2008 Pictures. The first two pictures are from 2004.

Broad-banded Water Snake, genus Nerodia
I previously thought this was a Lindheimer, common name = Texas Rat snake, but several people wrote to correct me. Josh P Says: " It looks like a couple of your snake pictures are actually Nerodia fasciata (Broad-banded water snake) instead of Elaphe obsoleta lindeimeri (Texas rat snake). .. Just thought you should know." . Mike says: I would have to agree with Josh P that snake is definitely a Broad-banded Water Snake. Notice the large upper lip scales. Also how much the keeled scales go down on the side of the body. Also the snake is a fairly large specimen, notice how thick it is. For a Texas rat snake to be that thick, it would have to be a 6 feet long specimen. Their climb trees quite a bit. The Broad-banded water snake in that picture is about 2.5 to 3 feet long. None the less, still an awesome find. Details for above: 1/24/2004 near the Shadowbend Marshland Experience. Got pretty close to him with the 80-200mm zoom, used center-weighted meter & flash on program with the D100, 1/60sec at f5.6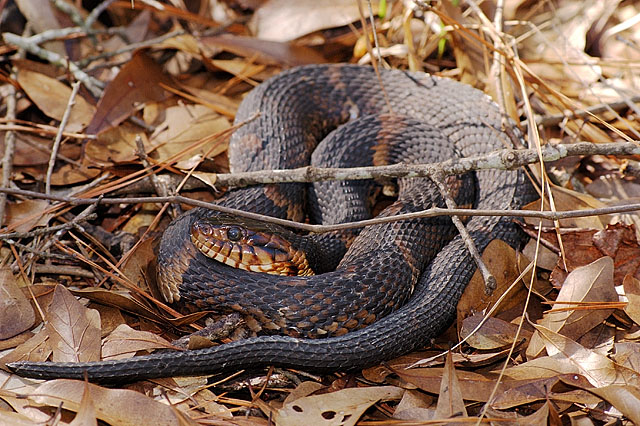 Broad-banded Water Snake, entire snake
Same details as above.
Below: March 29,2008: I noticed the flowers were blooming at the "Shadowbend Marshland Experience," a pond and wetlands area near my house, while I was doing my walk this morning. I also saw a snake, so I had to grab the camera gear and return.

3 Broad-banded Water Snake, Mating Behavior
Can you see all three?

Back to the Water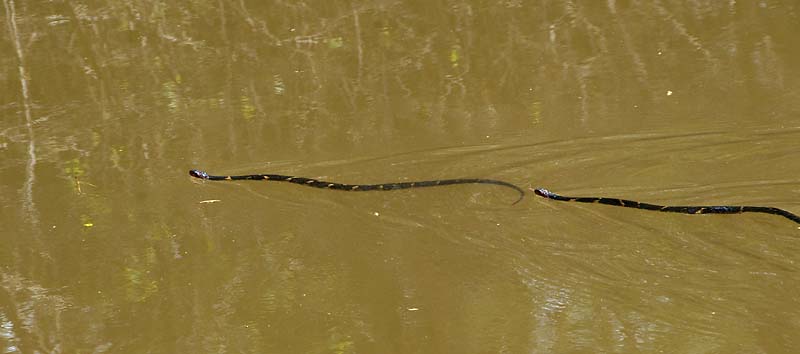 2 Broad-banded Water Snakes Swimming
The two snakes swimming and mating behavior pictures shot with the Nikon 18-200mm zoom. The swimming pictures below used the Nikon 300mm F4 ED lens.

Watersnake Swimming Close-up

Lizards Link
This is my second snake picture page, featuring images of watersnakes. If you like the snakes, you'll probably like
Lizard & Bugs and More! Lizard & Bugs
Copyright © Dick Locke. All Rights Reserved.
Contact and Image Use Information


Snake talk 1: John K. notes that the Lindheimer is ...excellent at keeping rodent populations in check. Not a great temperament though. Will bite, though not dangerous, but mostly will crap on you something fierce!
Snake talk 2 from DB: People here in Texas tend to think that almost every snake is a copperhead. Remember, poisonous snakes have PITS - they are pit vipers - except for the coral snake. Their heads are also usually shaped much more like an arrowhead, angular.