The Moon & Pleiades: Close Encounters
Copyright © 2006-2010, by Dick Locke. All Rights Reserved. Contact and Image Use Information

Moon and Seven Sisters Composite
Merope Emerges, Alcyone Approaches
The Pleiades were hard to see with this bright moon! As compared with the images from 2006 when there was 1/4 moon or so, the above was almost 90% full which isn't really what you want for pretty pictures! (Due to the extreme contrast between the bright moon and much dimmer stars, a single image can't do a good job of exposing them both.)
This image acquired about 6:19:50 p.m. 12/28/2009, and from my place Merope was just emerging, bottom right of moon, from being occulted, or hidden, by the moon as it passed in front of the distant stars. Alcyone is the brighter of two stars just to the right of the moon. You can also make out some of the brighter Pleiads! This is a composite of two images, one exposed to show detail on the moon and one exposed long enough to show the stars. I aligned the two images had to do a few tricks to merge them into one. See below for the longer exposure; as you can see, the moon detail is completely blown out. North is to the right in the frame. Image acquired using the Takahashi TOA 130 Telescope (a 5" APO refractor telescope, with reducer here), AP 900GTO mount, QHY8 CCD Camera. Other pictures from the camera are are here.
Here's a link for more info on the occultation from a NYC perspective.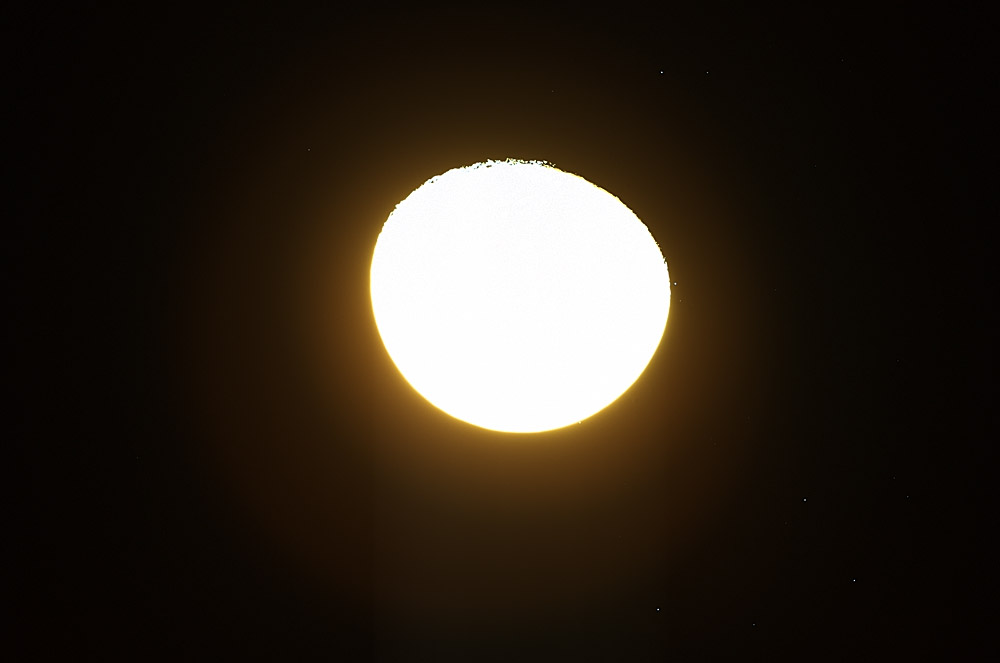 Merope Emerges, Alcyone Approaches
The Moon and Pleiades Occultation of April 1, 2006

Images and Text C
opyright © 2006 by Dick Locke. All Rights Reserved. Contact and Image Use Information

Alcyone Passes the Moon
This shows Alcyone, a bright star in the Pleiades, passing by the moon on 4/1/2006 from about 7:05 p.m. to about 7:20 p.m. The closest approach was around 7:16 p.m., and the middle row of pictures show how close things were. The graze line for Alcyone was a few miles north of where I live in The Woodlands, TX (a bit north of Houston). I shot these images from my driveway. To avoid trees and houses I had to set up in the flower bed between our house and the neighbor's. Fortunately, no flowerers were damaged getting these images. We also set up the tripod mounted 15x70 binoculars for some great visual views. See below for equipment notes.
Below: The Moon in the Middle of the Pleiades.
This is a driveway shot from about 7:15 p.m., just as Alcyone slid past the terminator and the Moon slid past some pine tree branches! It's a tiny blip at the bottom. This is a 6 second exposure at ISO 100. Local sunset was at 6:40 p.m., making this shot 35 minutes after sunset. Takahashi TOA 130 (a 5" APO refractor) and Canon EOS D20a.

Alcyone Approaches...
Alcyone is clearly visible to the left of the bottom terminator at ~ 7:09:28 p.m. This is a .6 second exposure. Same equipment as previous.


Big Moon - Labeled Images!
Backyard is 30 deg 10.67N, 95deg 30.56 w
Copyright © Dick Locke. All Rights Reserved.
Contact and Image Use Information