California Travel Pictures, San Francisco
All images on this web page Copyright © 2004, Dick Locke. All Rights Reserved. Contact and Image Use Information
July 2004 Travel Photos
Here are the San Francisco pictures from our 2004 California trip.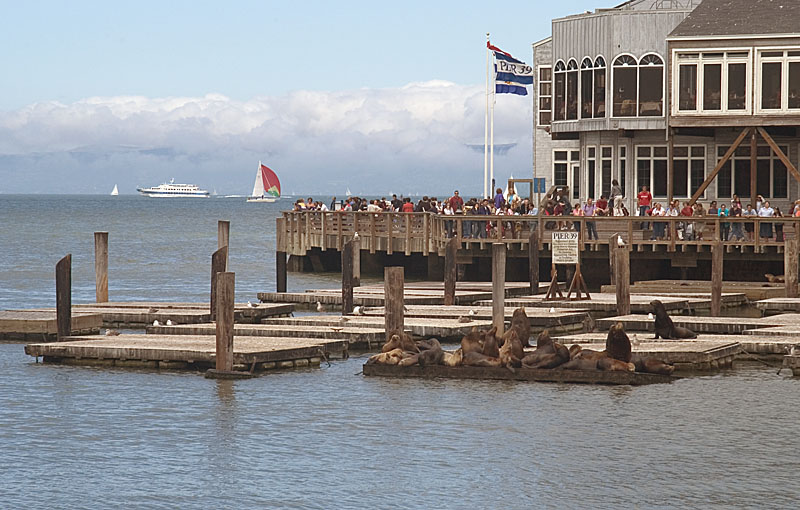 Sea Lions at Pier 39, Fisherman's Wharf, San Francisco, California.
We had "Chamber of Commerce" weather in San Francisco, which has to include the fog ;-) Hopefully you get a sense of what it's like. Pier 39, by the way, is something like the 2nd biggest tourist attraction in the US. There's an arcade, shops, and all sorts of street performers. It's a lot like a circus. I enjoyed just checking out the waterfront. With everyone trying to get a close look at the sea lions (above), the dock across the way (picture below) was relatively empty.


Sea Lion Close-Up
(The image above is a full resolution crop of the top image.)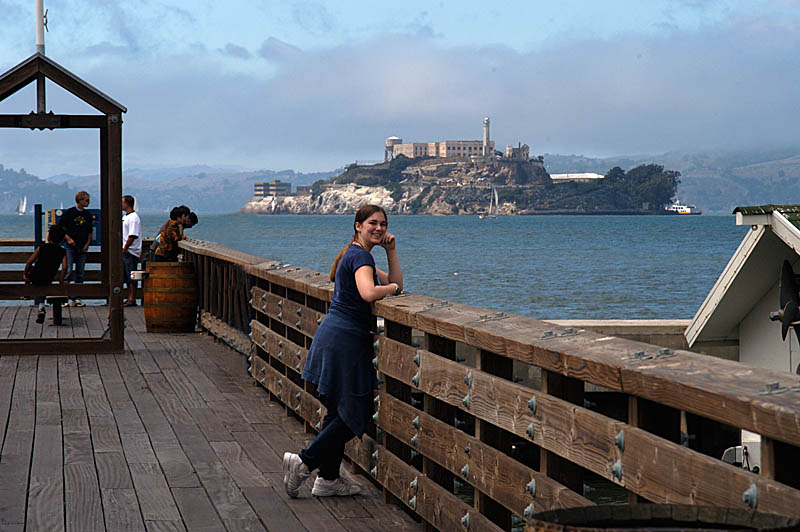 Madeline and Alcatraz
Above: Edit two, after removing the smoochers and with a bit of sharpening.
Below: edit two, straight out of the camera with minor level adjustments. No sharpening, so it's a soft, foggy look. For San Francisco, this a feeling I want to convey. Check out the smoochers

to the left of Madeline. I removed them using photoshop in the larger image.
Sea Lion Pictures from San Franciso
The Sea Lions took up residence here (Pier 39) around 1990. Apparently, the docks are often full, and there was a sign explaining the low numbers.
They bark in a unique manner and can be heard a considerable distance. We could hear them on an island that had to be at least a mile away when we stayed at Bodega Bay.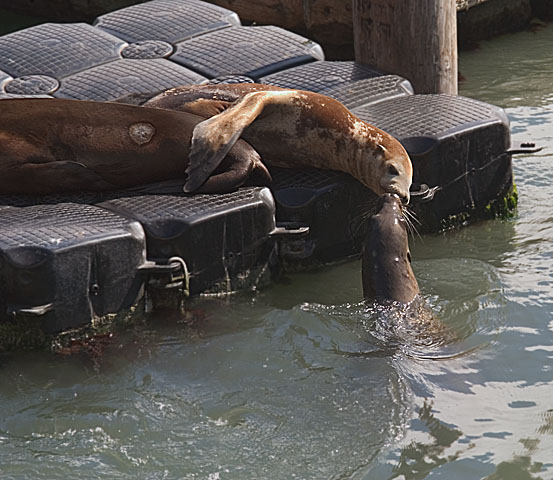 Give Us a Kiss?
Sea Lions are quite social and cluster around each other as they lay about. There's some sort of social protocol about who hangs out with whom. The guy in the water wanted to know if he/she could hang with these two. It didn't work out.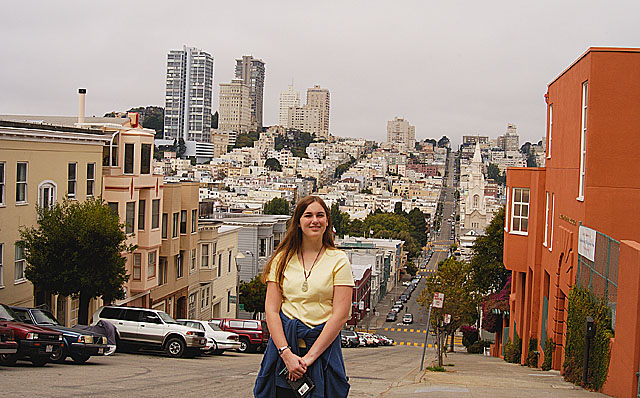 Can You Say Hills?
I think this is just over from Lombard street? It's right next to the Coit Tower facing West. Anyway, check out the hill we were on, noticing how the cars look fairly large nearby, and like little specs at the bottom of the hill.
Chinatown, below


Fresh Fish: Unloading live fish in Chinatown



Shirley and Madeline at The Stinking Rose, in San Francisco. Do you see the photographer in the reflection? Check below for the close up. I'm just to Shirley's left.

All images cropped, resized, and lightly tweaked in Photoshop.
California Pictures: 2004 Trip
Copyright © 2004 Dick Locke. All Rights Reserved.
Contact and Image Use Information