California Pictures
All images on this web page Copyright © 2004, Dick Locke. All Rights Reserved. Contact and Image Use Information
July 2004 Travel Photos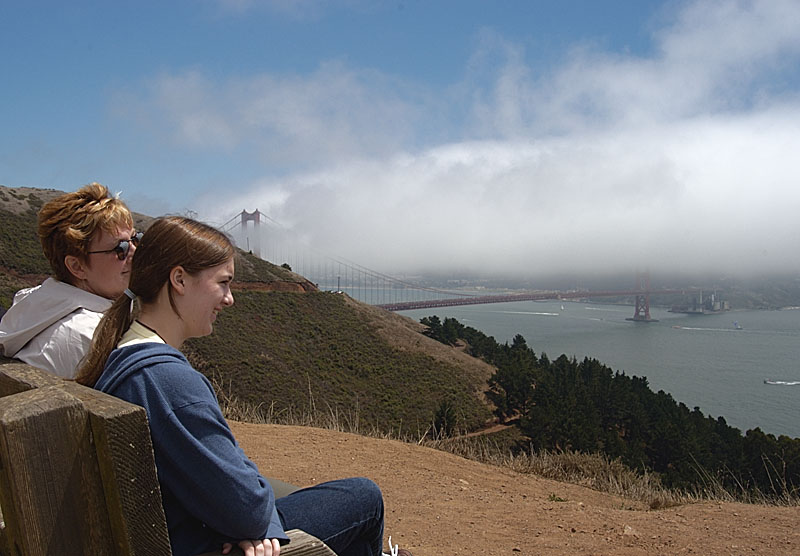 Marin Headlands and Golden Gate Bridge...
...and two attractive young ladies. This is the area on the NW side of the golden gate bridge. You're looking back toward San Francisco, which is obscured by fog in the typical summer manner. We (8/1/04) just arrived back from a great trip to California. We spent some time in San Francisco, Bodega Bay, wine country, and Lake Tahoe. During the trip I undertook to photograph at family friendly times. Photo Notes: Nikon D100 DSLR camera, Nikon 24-85f/2.8-4 D lens @ 24mm, ISO 200, 1/250s at f8.


California Coast Scenic Pictures Above

California Dreamy, Below.



Madeline & Waterfall

Lower Glen Alpine Creek Falls, aka Big Falls, aka Fallen Leaf Falls.

Also see why you should shoot raw, if you can.

Near Fallen Leaf Lake, just south of Lake Tahoe. It's about 5 miles over a very narrow road to get here, but we found it to be worth the trip. Watch this space for when my slide film gets back.


Dick at the Golden Gate.
Don't step back, it's a long way down.



Egrets, Starfish, Sea Lions, Seals...
California Critter Pix: Animal Images from coastal California.


Madeline checking a shell or rock find.
Bodega Bay shoreline, and ubiquitous fog, in the background. Taken at Doran Park beach.



California Birds

Overlook at Armstrong Redwoods state reserve in Sonoma county. Film image, Nikon F3 camera, 17-35 mm f2.8 zoom; Velvia slide film.

San Francisco Pictures

What the heck is that thing?
All images used the Nikon D100 DSLR; cropped, resized, and lightly tweaked in Photoshop.
Copyright © 2004 Dick Locke. All Rights Reserved.
Contact and Image Use Information