California Coastal Scenic Pictures
All images on this web page Copyright © 2004, Dick Locke. All Rights Reserved. Contact and Image Use Information
July 2004 Travel Photos. See here for the 2nd page: "California Dreamy".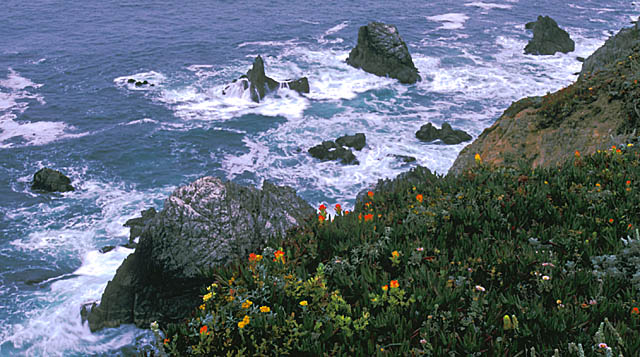 Colorful Flowers and Waves at Bodega Head: Long exposure photograph.
Note the water running off the pointed rock in the middle of the picture frame.
Left: Facing North, near the West parking lot on Bodega Head. Right: This particular succulent plant was all over the coastal area. Many different colors.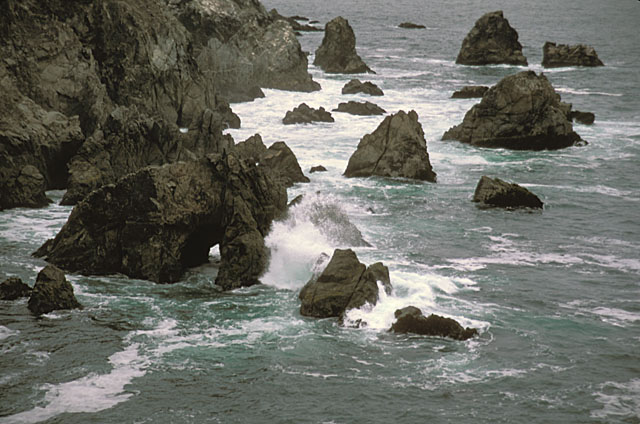 Pacific Coast, Bodega Head - warm and fast
A faster shutter speed reveals the different colors of the water, and almost freezes the wave. See here different view: "California Dreamy".


Lower Alpine Falls, Near Lake Tahoe.
(OK, it's not exactly the California Coast, but I think I was still in California! An extremely wide-angle shot of the falls. Note the blurry white water, indicative of a slow shutter speed (about 1 to 2 seconds). Nikon F3, Nikon 17-35 f.28 lens and Nikon Polarizer, Fuji Velvia 100 film. Note the falls exiting the frame on the extreme lower right.

Another flowering plant, type TBD.
More Bodega Bay area plant life.
All images cropped, resized, and lightly tweaked in Photoshop.
California Pictures: 2004 Trip
Copyright © 2004 Dick Locke. All Rights Reserved.
Contact and Image Use Information