Starry Nights Astronomy Images
March, 2002
Once again, the weather was somewhat less than cooperative during the week we spent in Wimberley. There were a couple of good nights, but only one that allowed photography until the wee hours. I spent that night shooting with my new toy, a Nikon 300mm f2.8 ED lens. The two galaxy shots below used this lens. Scroll down to see the links to other pix.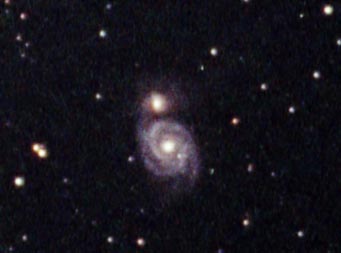 Above: M51, the Whirlpool Galaxy.
Two images, each exposed for about 70 minutes, combined with Images Plus.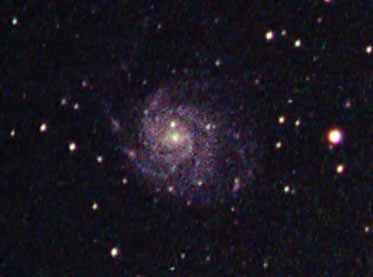 Above: M101, the Pinwheel galaxy.
About 50 minutes exposure.
Above photos note: Nikon 300mm f2.8 EDIF lens at f2.8. Lens was mounted on my Losmandy G11 mount using the Losmandy "dual saddle" plate & 125mm rings. Tracking with Sbig STV autoguider. Kodak LE 400 print film, Nikon Coolscan IV ED film scanner. The frames above are extreme crops, with the usual processing in Photoshop 6.0.
Copyright © 1998-2003, Dick Locke. All Rights Reserved.
Contact and Image Use Information