West Texas November 2013 Astronomy Pictures

I
mages and text Copyright © 2013-2015 by Dick Locke. All Rights Reserved. Contact and Image Use Information
This is my November (Fall) 2013 Davis Mountains astronomy pictures page. In June 2015 I'm circling back and pulling in some additional scenic and time lapse images.

Belt of Venus
Shortly after sunset, or before sunrise, there is a short period where the entire horizon turns pink. This is called the Belt of Venus. Posted 6/15: Getting back to some older pictures with the above "Belt of Venus" image, featuring the mount and telescope in the foreground. Apparently this is also called Venus's Girdle.
12/13: I added added some Rosette Nebula images. There's a sample version below, but go to my Rosette Nebula Page for more images & details.

Rosette Nebula: Hubble Palette Narrowband 2013
Image above consists of 6.25 hours of total exposure; details on my Rosette Nebula Page.


Images of Comet ISON from the trip are on my comet page

The Crescent Nebula & Surroundings
This image of the Crescent Nebula in Cygnus consists of 3.5 hours exposure using the TOA 130 telescope with reducer and QHY8 "color" CCD camera. I have even more exposure with that combination to add to this one! See more here:

Crescent Nebula Image: Hubble Palette
This picture used my SBIG ST-8300m monochrome camera, narrowband filters, and my small FSQ-85 telescope (85 mm diameter, f3.86, effective focal length 328mm). Total exposure is 7 hours. Each filtered image is assigned a color, which allows for many different views of an object. This view uses the "Hubble Palette" of colors like many of the images from the Hubble telescope: R= Sulfur, Blue = Oxygen, and Green = Hydrogen Alpha. The Crescent itself is a good O3 target. See more images of the Crescent Nebula here.

Double Rainbow from the Porch
I don't particularly like clouds and rain on my Davis Mountains trips, but it's nice when I get interesting rainbow pictures or lightning pictures out there nonetheless.
The rainbow 2013 story:
The night of Saturday, Nov 2nd was productive for imaging, but towards the morning it went from clear, to cloudy, to raining a bit in less than three hours. That means there was a mad scramble to cover up the scopes and haul in the other cameras I had set up to do time lapse images at the end of the night. Early Sunday morning I had finished downloading the night's pictures and securing the equipment. I was just getting ready to head to bed, when I decided to quickly check outside to see if there were any interesting sunrise cloud interactions going on. Keep in mind I had been up most of the night, save for about a 1 hour nap, and wasn't 100% with it. I first noticed the ground and grass had a nice reddish color to them and considered getting a camera out to get some pictures of that. I decided maybe the red was due to cloud reflections that might be cool, and stuck my head out from under the porch to look up and boom! There was a monster/bright rainbow right in front of me! A mad scramble reconfigure my cameras from night shooting to day shooting then took place. I got one camera going pretty quickly with my ultra-wide lens, thankfully turning on the autofocus switch before starting to shoot. I wanted to get the other camera with the 18-200mm zoom going and it wouldn't work; I finally figured out it was missing a memory card and was able to get a few telephoto shots off with that. Unfortunately the rainbow quickly dimmed and was gone... And all the while it's cold, raining, and I'm in a light jacket freezing my a** off while trying to get good shots off without soaking the cameras. Easily worth the trouble, though!

Moon and Venus after Sunset Nov 7, 2013
The Moon and Venus were about 7 degrees apart the night of November 7th. The moon was about 16% illuminated and Venus was blazing away at magnitude -4.6 (that's really bright) and 46% illuminated. (Venus has phases like the moon, you just need some optical aid to see them.) It was easy to see both before sunset, with the crescent moon providing a simple guidepost to locate Venus.

Davis Mountains Burro
Apparently there are a fair number of burros roaming wild in the Davis Mountains now. On this trip I had seen plenty of evidence of their presence, if you know what I mean, and then I saw one in-person while coming back from a run into town on Thursday 11/7/13. I love the wry smile this guy seems to have.

8% Moon
The Moon picture above is from Tuesday night, 11/5/13. Exposure .1 second through the 130mm scope with the reducer. This is not an optimal optical configuration for moon imaging, but it's better than using a camera lens ;-). TheSkyX says this moon is 8.4% and 2.5 days past new.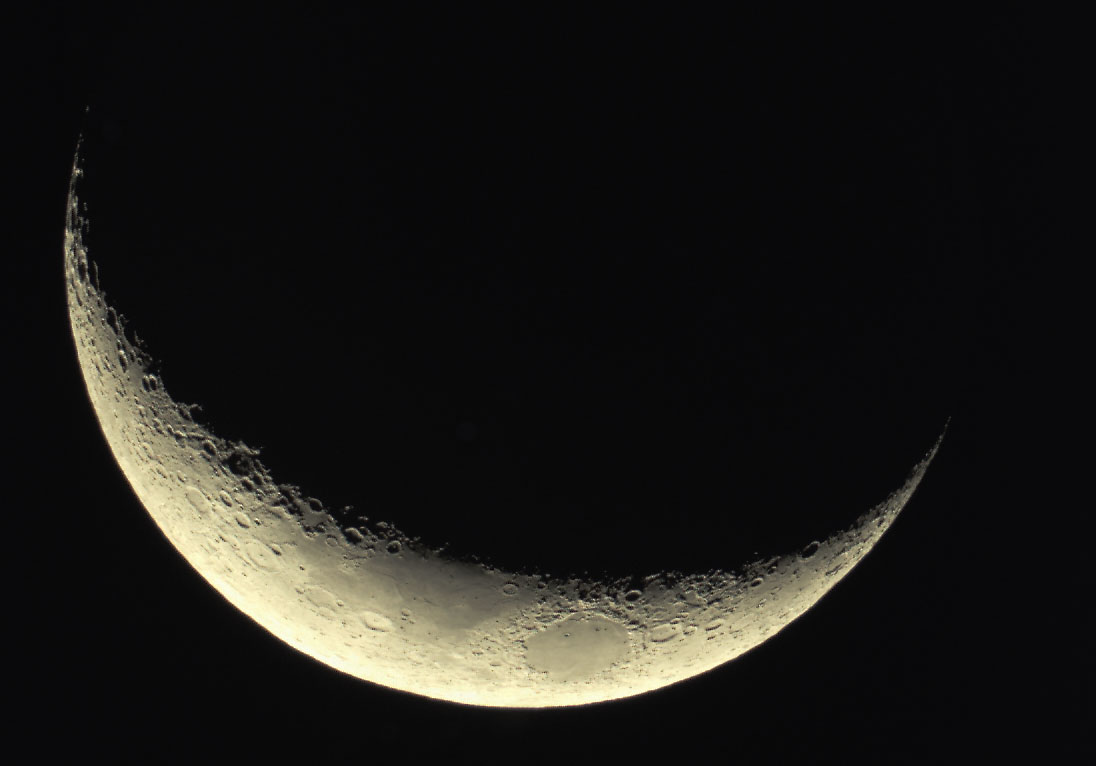 16% Moon
This is from about 6:35 p.m. on 11/6/13. TheSkyX says the moon is 16% and 3.5 days old.
Time Lapse Images
11/4/13 - Lots of Clouds in the Mountains Time Lapse
11/8/13, night to day time lapse; watch full screen HD in a darkish room for best results!
Link to night of 11/1 sunset and star time lapse from 6:12 p.m. to 4:36 a.m.
New, Davis Mountains 11-8-13 mountain time lapse with cloud taunt.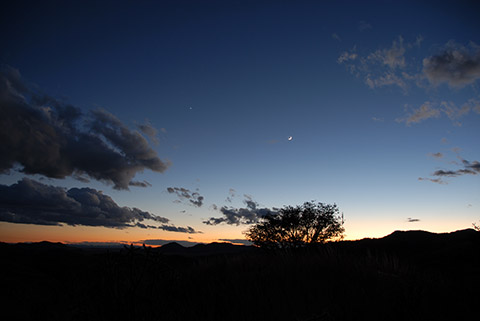 Here's another nice time lapse from this trip, 11/5/13, clouds to Moon/Venus/Milky Way with D200.
Main West Texas Scenic Picture Page is here
Dick Locke's Astrophoto Gateway page....
Images Home

Contact and Image Use Information