Above, the Latest: a bright orange-red tree fungus.

Stickhorn!
Scroll down for more. Above: 3/12/04: Identified the above as a "columned" stinkhorn, Linderia columnatus. Received a "Texas Mushrooms" book from Amazon today. These guys feature a really scary black slime that smells really bad (thus the name.) I did notice that it had a bit of a "ripe" olfactory aura. Image 3/6/04.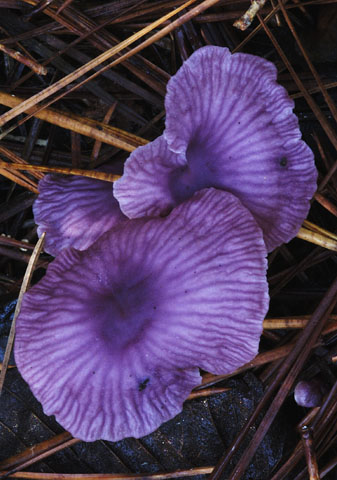 Purple Mushrooms
. Collybia iocephala, meaning "violet head". 4 seconds, Nikon 105mm F2.8 macro lens @ f36


Mushrooms growing out of tree stump
Notice the reddish purple mushroom on the upper part of the image, just left of the main mushroom group. 4 second exposure, Nikon 55mm macro lens, ~f22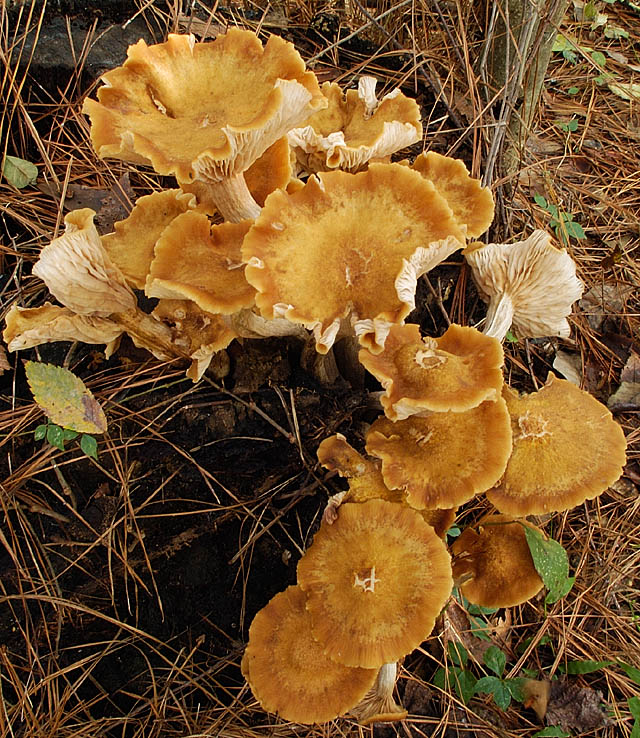 Wide angle tree stump mushrooms.
4 second exposure, Tokina 17mm ATX lens @f22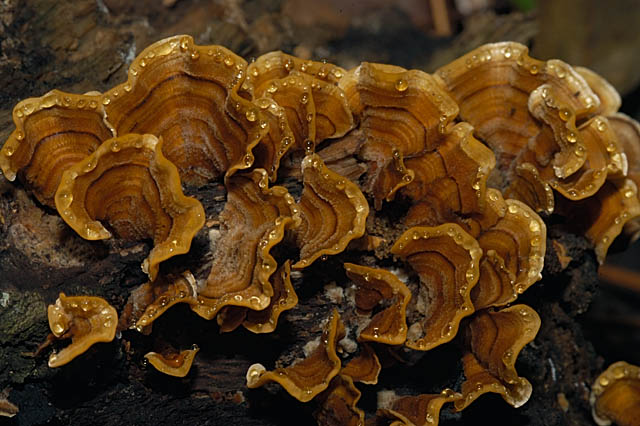 Clam shell fungus (I made up that name) on tree branch.
Got lazy and used flash on above. Maybe a Stereum ostrea. Stephanie M. advised it is a Turkey Tail in 10/2008.


What the heck is that thing? Looks like a teat? (Part of a purple mushroom...) 1/4 second, Nikon 105mm macro lens @f40.


Geastrum saccatum, looks like a puffball; flash.
Please Contact me if you can identify any of these mushrooms/fungi!


More Mushroom & fungus Pictures
Notes for most of the above: Saturday, October 11, 2003: I took a walk on the hike & bike trails near my house in The Woodlands, TX, with my camera gear and tripod in tow. We had been having quite a bit of rain, and that usually brings out some interesting fungi. Nikon D100 pictures from this walk are below. More fungus pictures, including the wild, "bright yellow fungus" here. Check out the Morning in The Woodlands: D100 Pond & Flower pictures too.
Photo Talk: Nikon D100, Tripod on all images (obviously) except the flash.
Copyright © 1998-2003, Dick Locke. All Rights Reserved.
Contact and Image Use Information