Morning in The Woodlands
Nikon D100 pictures of a pond near my house, Oct. 5, 2003, starting just as the sun rose. Below,

Quiet and Misty Pond - the sun is not yet illuminating the scene


Bee "Gettin' Beezy"

There are one or two (hundred?) aphids on the flower stem. There's still some dew.


Turk's Cap
Red Flower, backed by yellow flower, just for fun. Update, thanks to Rick E. who has identified this as a "Turk's Cap" which is in the hibiscus family. http://www.nativesoftexas.com/tcap.html


Marshland Pictures
(March 2008)

Fungus

Takes a heavy-duty tripod to hold the 300mm lens...


Notice the tree shadows against the other side of the pond. There's one on the left and one on the right.


Well-hidden Bug

Notice the green & yellow color scheme on this guy. Pretty inconspicuous. I'm guessing some sort of Katydid; definitely grasshopper-like. I'm not sure what sort of flower -- closest looks to be a Cut-leaved Daisy (Engelmann's Daisy), but it also looks like a Maximillian Sunflower. Contact me if you know, please!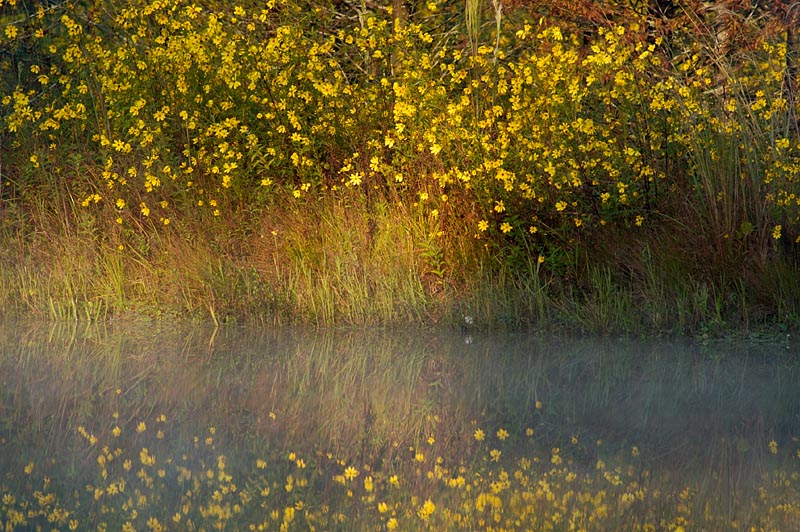 Above: Sun Peeking Through
The sun just started to hit the flowers in the picture above. The fog is starting to burn off.

Pond as a Mirror
Photo Talk: Nikon D100. First three: tripod mounted using Nikon 300 f2.8 ED lens & 180 2.8 ED lens, Nikon 55mm f2.8 macro, and Nikon 35mm f1.4 lenses. If you care which lens was used for which shot let me know. The last three images feature the Nikon 105 AF D Macro F2.8 & D100's built in flash.
Image and text Copyright © 1998-2005, Dick Locke. All Rights Reserved.
Contact and Image Use Information