Hazy Chicago Skyline, and Lake Michigan from the Air
I shot this into the late morning sun. You could see a distinct layer of haze as we climbed out of O'Hare in August, 2006. See lower part of the page for a shot as we were flying through some sort of inversion layer.


More Chicago from March 2008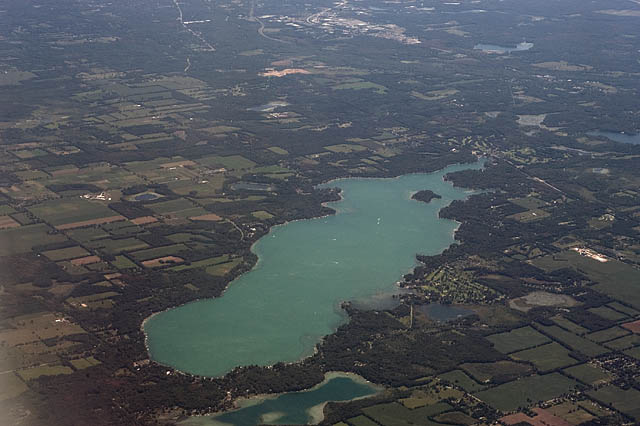 Gull Lake, Michigan
...from the plane. Gull Lake is a few miles long.

Lansing Michigan Skyline...
... as the plane lands. You can notice the Capital and bank tower on the left, and the power plant's 3 smokestacks on the right. This is very wide and you may have to scroll right to see it all. Lansing MI is where I grew up...

Trinity (?) River from the Air
I'm guessing the above is the Trinity River, northeast of Houston, TX.

Chicago Inversion
I shot this over Chicago, looking east to Lake Michigan. Check the layer of haze we're flying through. Above it is a bright blue sky, and below the Chicago summer haze.
Photography Notes:
Images through plastic jet windows, Nikon D100 D-SLR camera, Nikon Nikkor 24-85mm f2.8-4 D AF lens. This is a great travel lens. While it is not "the best" optically, it is good enough for most situations. It's zoom range is an excellent match for the smaller (than film) sensor on the D100, giving the field of view equivalent to a 36-128 zoom on a film camera. I've settled into a travel kit of the Nikon 80-200 f2.8 ED AF zoom (with a Tamron 1.4x teleconverter in the bag), the 24-85, and then something wider. The Nikon 17-35mm is a great lens but a bit heavy. I grabbed the Nikon 18mm AIS (manual focus & exposure) lens for emergency wide situations. That was the lens I used on The Boat

shot from the 2006 summer trip to Michigan pictures. More recently I'm using the Nikon 18-200 VR as my travel lens, but I'm hanging on to the 24-85 for whenever I get a camera with a film-sized sensor...
Other (from an Airplane) Pictures
2005: More Scenic Pictures High Over The Woodlands
Copyright © 2006 Dick Locke. All Rights Reserved.
Image Use Information