Butterfly Nebula and Gamma Cygni Area Images (The Heart of Cygnus the Swan)

I
mages and text Copyright © 2000-2012, 2016 Dick Locke. All Rights Reserved. Contact and Image Use Information

Butterfly Nebula Close-ups are here

Butterfly Nebula Area - Wide with D810A
This one takes over top billing in 2016. It is from the Fall 2015 trip to the Starry Nights B&B in Wimberley TX. It shows the Butterfly Nebula area to the mid-right, along with a lot of interesting detail including dark nebula and countless stars. Image Details: Nikon D810A camera, Nikon 85mm f1.8 lens at f4.5, 85 (17*5) minutes total exposure.

Star-studded Sadr Area
Registar counts 151,230 stars in this frame. Gamma Cygni (Sadr) area from Wimberley 9/8/2012. Only 7*4 = 28 minutes exposure, Canon 85mm f1.8 lens at f4, modified Canon 20Da (no flats, no guiding on AP900 GTO mount). This was shot very close to the zenith on a cool (70 deg F), clear night, which helps compensate for the relatively short exposure!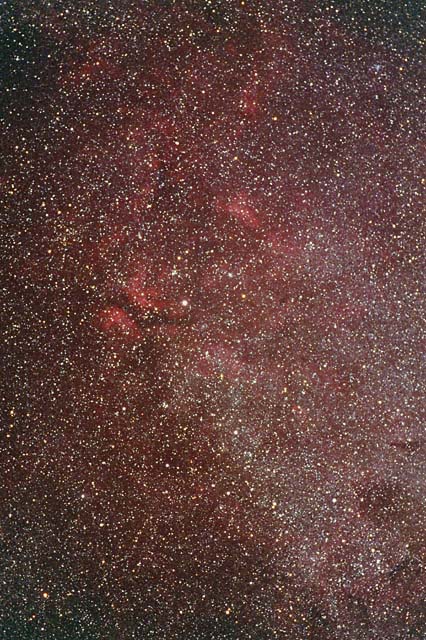 Butterfly Nebula, Gamma Cygni
This is a view of the Butterfly Nebula. The butterfly shape is to the left of the brightest (white) star near the center. You will note a great deal of red nebulousity in surrounding areas. This is the area below (south of) the North American Nebula in Cygnus. In this wider view you can see it (butterfly area) on the right. Cyngus is in the Summer Milky way, which means we're looking toward the center of our galaxy.
Davis Mountains, TX, November 22, 2000
Photo by Dick Locke
10 minute guided exposure
Losmandy GM-8, Camera mounted using DSBS system
Nikon F2 camera and Nikon 180mm f2.8 ED lens @f2.8
Kodak PJ 400 film
Negative Scan, Minolta Scan Dual, Processed in Photoshop
Starry Nights Astronomy Images October 2003 (Astrophotos) Gamma Cygni


Cygnus Area Wide Angle Shots
Copyright © by Dick Locke. All Rights Reserved.