Cloud Pictures: Photos by Dick Locke
All images on this web site Copyright © 1998-2004, Dick Locke. All Rights Reserved. Contact and Image Use Information
Interesting and Colorful Clouds. Includes discussion and examples of film scans versus print scans, along with commentary on standard mini-lab printing process.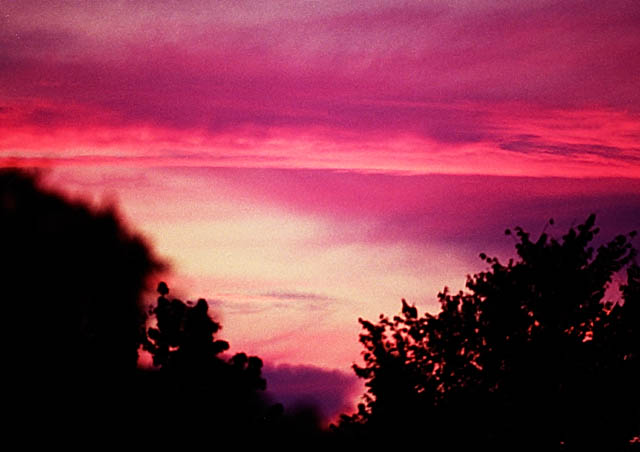 Cloudage
Taken at the North Houston Astronomy Clubs "Neal" Site, June 28, 2003. This is a shot through my telescope on Kodak LE 400 film in my Olympus OM-1n. I metered on the bright part of the sky, and then bracketed (varied the exposure time of) my shots. Dust specs removed, curves, "grain surgery" degraining at default settings, resizing, and unsharp masking in Photoshop.
It's usually not good when the best photos of the night show clouds! I was all set up for astrophotography, but frequent cloudy patches caused me to reconsider. There were some folks new to astronomy this evening. I was pleased to show one gentleman his first galaxy (M51), among other things.
Check out my Cloudscapes page for some wider-angle cloudage views!
On another matter, the images below help show some important points about prints. The first is a straight-up scan of the print I got back from Eckerds. The second is from the scanned negative.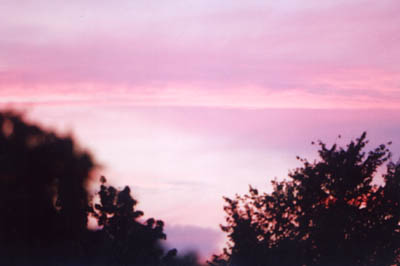 Above: from flatbed scanner, scanned 300 dpi from the print, resized and saved as .jpg Do you believe it's the same frame as the above? They just set their automatic print-making machines and let 'em rip.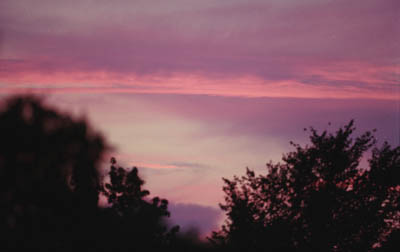 Above: this is straight from my film scanner, resized and saved as above, with no adjustments of any kind.
The poor detail and color revealed in the print helps illustrate why it's better for new photographers to shoot slides (vs. film). Slides show you what the camera captured, not what the drug store print making machine spits out. Digital cameras have a similar advantage.

One final point: "The darkroom" is a major element in producing a pleasing image. The digital darkroom (Photoshop in my case) give me control, not whomever is running the print making machine at the photo store.


A fun shot of a jet's contrail through the TOA...
Astrophoto Home
NHAC Pix
Images Home
Copyright © 2003, 2006 Dick Locke. All Rights Reserved.
Contact and Image Use Information