Planetary Alignment
Copyright © 1998-2020, Dick Locke. All Rights Reserved. Contact and Image Use Information. Updated with April 2020 alignments as Facebook just ruins these kind of low-light shots.


Moon and Planets - Ecliptic
Three bright Planets and a 55% illuminated Moon were featured before Dawn on 4/14/2020. Social distancing means no commute so it's easier to find time for early morning shoots! It was very interesting to see two of Jupiter's Moons were easily seen with at 100% camera resolution with a Sigma 35mm Art lens. All were easily seen in a 500mm shot.
Note these objects all appear in a straight line because there's roughly on the same plane in in the solar system. They are close the ecliptic, which is a line tracing the path of the Sun. Since the other seven planets orbit in approximately the same plane as Earth, the ecliptic is also a decent guide to where you'll see the planets in the sky. To put that another way, the planets allow you to actually trace out the ecliptic on any clear night yourself. [Reference]
Details: Tripod mounted Nikon D610 camera, Sigma 35mm f/1.4 DG HSM ART lens at f2.8, 0.6 seconds at ISO 800. While the D610 is my oldest and lowest resolution camera, it does extremely well with low-light photography. Jupiter & 4 Moons on the inset were with the Nikon D850 and 500mm lens at 1/15s, ISO 600. Labeled Moons from TheSkyX software. The Sigma Art lenses are highly regarded and the 35mm f1.4 images were quite usable. Stopping down to f2.8 helped with chromatic aberration (false color or purple fringing) and coma in the stars at the edge of the frame.

Moon below Saturn, Mars left & Jupiter right
I saw the parade of freaking Space-X satellites the next morning, April 15 2020; you can see a couple on the right part of the frame.
Geek talk: I was able to determine in advance that if I angled the lens just right, the Moon & Saturn (seen above the 45% lit Moon in this 50mm lens image) were close enough to fit into the same frame with my 500mm lens (scroll down) for that. This was also with the Nikon D610 camera but with the Sigma 50mm f/1.4 DG HSM ART lens, f2.8, 0.8 seconds at ISO 800. The Sigma lens was great at f2.8 for coma (didn't see any in the corners) but it did have a bright red blob reflection to the lower left of the Moon in these overexposed shots. I mostly removed that with Photoshop. At f1.4 there was some purple fringing on the moon and a bit of coma in the corners, but not bad.

April 16 2020 Moon & Planet Alignment with Insets
Concluding the sequence (clouds prevented continuing on 4/17), this shows the now 35% lit moon with 3 bright planets. Notice how much Jupiter's Moons have moved from two nights ago.

Overexposed Moon with Saturn - 4/15/20
Always take your Moon exposures 2 or 3 stops more than you think you need when bracketing. In post processing I often find the most overexposed images are the most interesting. This is 1/15 sec with the D850 and 500mm lens at ISO 1600. Saturn is 1/200s at ISO 800 with the same setup, enlarged to 200% original size to help show detail.
Here are March 2012 Conjunction Pictures
November 2013 Conjunction Pictures are here

Venus and Jupiter Conjunction 8/18/14
The planets were less than one degree apart, with Venus being on the lower left. They will also get together (even closer) on June 30, 2015. Watch this space ;-)
That's Procyon upper right; alpha Canis Minoris. Tripod mounted Nikon D7000, Nikon 18-200mm lens at 26mm 1.10s f3.8 ISO 1600 at 6:17 a.m. Had to battle lens fogging, mosquitoes, and muggy conditions to get this one, but at least I didn't have to go far. Interesting facts about Procyon, at mag .34 it's the 8th brightest star and is only 11 light years away, making it one of our closest neighbors.
Planetary Conjunctions. Scroll down to see all the planetary alignment pictures.
Below: Top to Bottom: Venus, Mars, Saturn, Crescent Moon, and (to right) Mercury. Olympus C4040, 71mm focal length, f2.6, 1 second exposure, processed in photoshop to enhance visibility of Mars & Mercury Moon was about 39 hours old, 2.7% illuminated.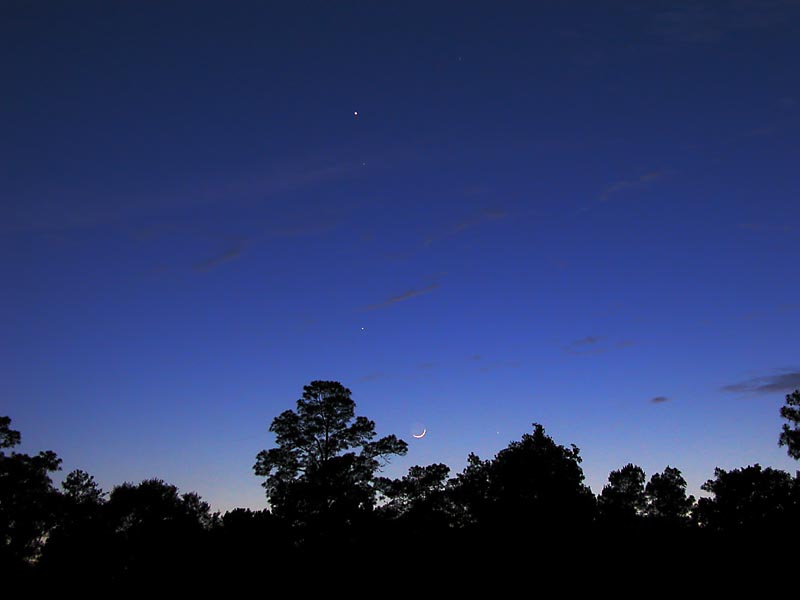 Click here for: Unprocessed Crop of Moon, Saturn, and Mercury from above
Below: Planet shot from North Houston Astronomy Club's Neal observing site on 5/11/02.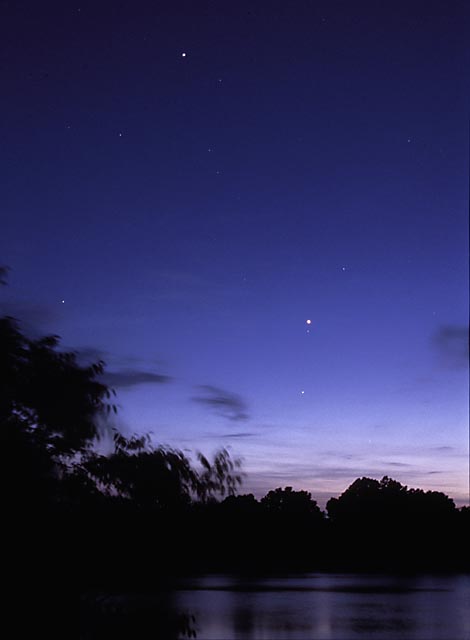 (Above) Nikon F3, 35mm f1.4 lens @f4, approx. 8 second exposure, Kodak E200 slide film, processed in Photoshop to enhance Mercury's visibility.
Here's the picture above labeled with the planets & a few stars.
Below: picture from 5/6/02.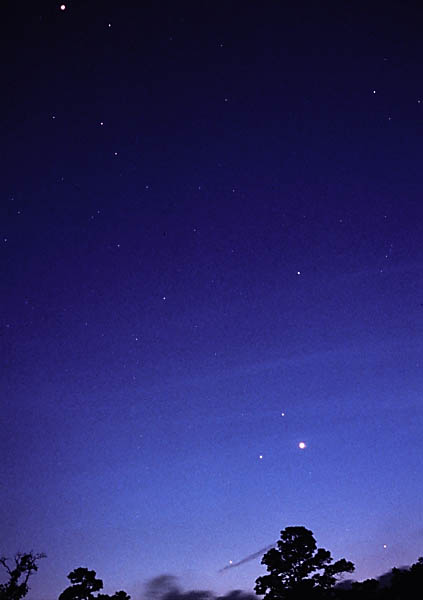 Above: Nikon F2, 50mm f2.8 macro lens @ f4, about 8 seconds on Kodak E200 slide film.
(Amazing amount of detail recorded, there are magnitude 5 stars on the slide!)
Nikon Coolscan IV ED, Photoshop dust spot & cleanup, curves, grain surgery plugin, resize, and unsharp mask.
Click here for a version of above with the planets named.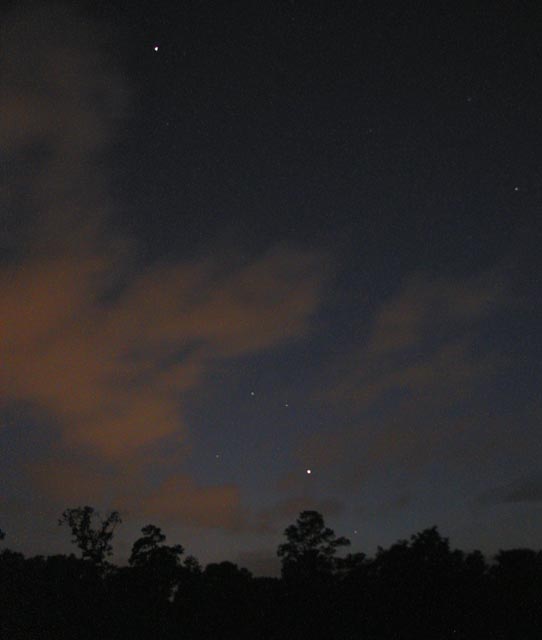 Above: Olympus C4040 digital camera, 3 second exposure @ 35mm zoom setting. Taken 4/30/02, 35mm, ISO 100, substantial cleanup in photoshop. Got Jupiter in this one for Aaron.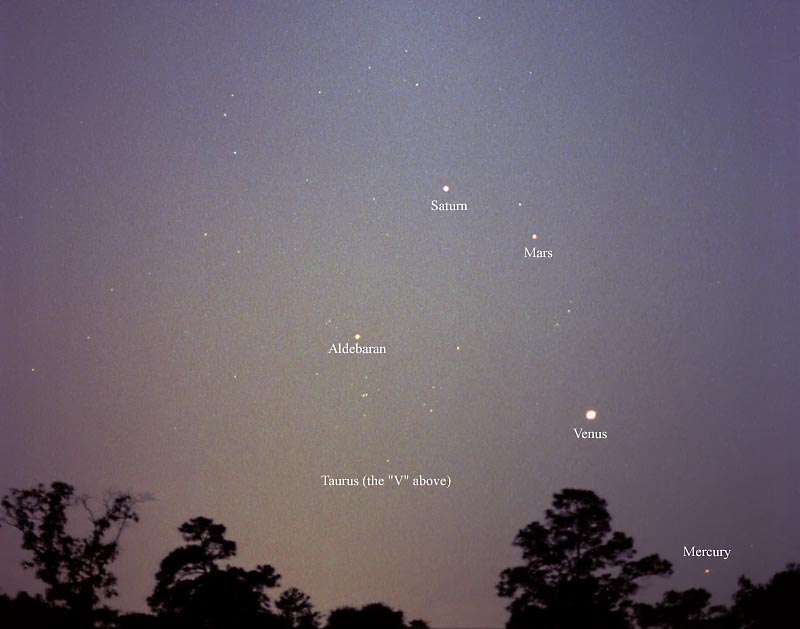 Mercury, Venus, Mars, and Saturn on April 29, 2002
(Aldebaran is the brightest star in Taurus, in response to a couple of questions!)
This was taken on a small hill, looking across a soccer field, at my daughter's old elementary school. About 4 seconds on Fuji 800 print film. Olympus OM2n, 50mm f1.8 lens wide open. Jupiter is out of the frame, above left. Hint: You need about a 35mm lens to be able to include Jupiter.

If you've looked this far, check out the links below for close-ups of the planets.


NHAC - moon and mercury pictures
Images Copyright © by Dick Locke. All Rights Reserved.
Contact and Image Use Information