Planetary Images (last update: 12/2020)

Copyright © 2002-2020, Dick Locke. All Rights Reserved.
Contact and Image Use Information
This is my main page of planet pictures.
Here are the March 2012 Conjunction Pictures

March 30, 2010: Venus (upper left) and Mercury (lower right)
Saturn and Jupiter

A Bad Picture of the Moon?


No, it's a shot of Venus in broad daylight. Like the moon, Venus has phases and was 1.14% illuminated when shot at 5:30 p.m. on 3/24/2009, about 3 hours before local sunset.


Venus as a Crescent


12/28/2005: Venus as a crescent at prime focus on the Takahashi TOA 130!
Whoa! Ken Florentino from the digital astrophoto group processed some of my images using ImagesPlus (http://www.mlunsold.com/) and produced the following results: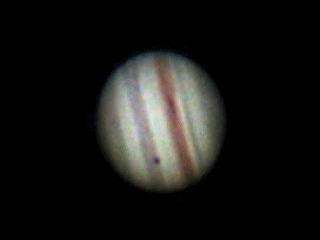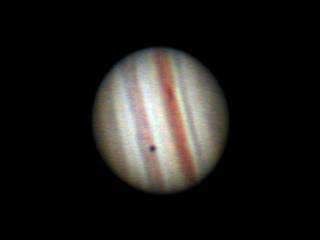 Here are a couple of versions of Saturn. The one on the left is older, on the right is newer.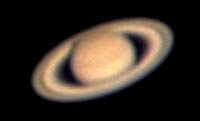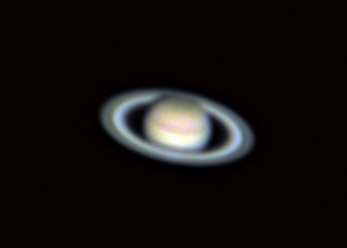 Here are some images of Jupiter captured on 1/19/02. Its moon Io is casting a shadow on its face, just below and to the right of center.
Several shots stacked and combined

Stack

Several shots stacked & combined

Another single shot

Single shot

Saturn (STV CCD camera)
Saturn from Jan 19

Jupiter, 1/19/02
Great Red Spot is (barely) visible on upper left area of top dark band.

Moon from STV (old)
Not a planet, included just for fun...
Techniques: I'm learning how to use Astrostack, and that's what I used for the stacked pix.
Equipment: Olympus C-4040 digital camera, Scopetronix "digi-T" adapter, Takahashi FS-102 telescope, either a UO Klee 2.8x or Celstron 2x barlow lens (or both stacked) and a Celestron 26mm plossl eyepiece.
Planetary Challenges: With planets you need high magnifications, so you need to shoot both through the scope and through a magnifying eyepiece. (All my previous through-the-scope pictures didn't use an eyepiece.) A few more planet pix in the gallery below.
Jupiter

Using an Olympus C-4040 digital Camera
Jupiter, Film

An experiment with 800 film...
Jupiter, film

Kodak E200 slide film, 1/2 sec
Jupiter with Film

1/2 sec, 100 print film
Saturn, film

1 sec, Kodak E200 slide film


Click on Sun to see the sunspot picture.


Planetary Landscapes
Astronomy Pictures: Dick Locke's Astrophoto Gateway page....
Go to my astrophotography page
Copyright © Dick Locke. All Rights Reserved.
Image Use Information