West Texas December 2010 Astronomy Pictures

I
mages and text Copyright © 2011, Dick Locke. All Rights Reserved. Contact and Image Use Information
Main West Texas Astronomy Pictures are here.
This page features December 2010 results from a trip to the Davis Mountains. The "Deep Space" object links are displayed in the grid below, and check out the Moon and Planet conjunction pictures at the bottom.
My plan on this trip was to re-visit a few older showcase objects I originally shot with the Canon 20Da DSLR, hitting them hard with the newer and cooled QHY8 CCD Camera. The weather didn't cooperate with the hard-hitting theory, however. I was happy to get a maybe 2 pretty clear nights during the week's stay, plus a few marginal nights. Generally the transparency was fair, with a few brief ultra-clear hours that you hope for. A few clear hours there trump more hours in lesser spots, though, and I made sure I was imaging as much as possible. Unfortunately, that means a lot of checking individual frames for quality and discarding hours of exposures.
The Moon and Mars pictures, below, are from an evening that was clouded-out, and I'm glad the weather gods gave me that. These events are comparatively rare. Check out other alignment pictures here.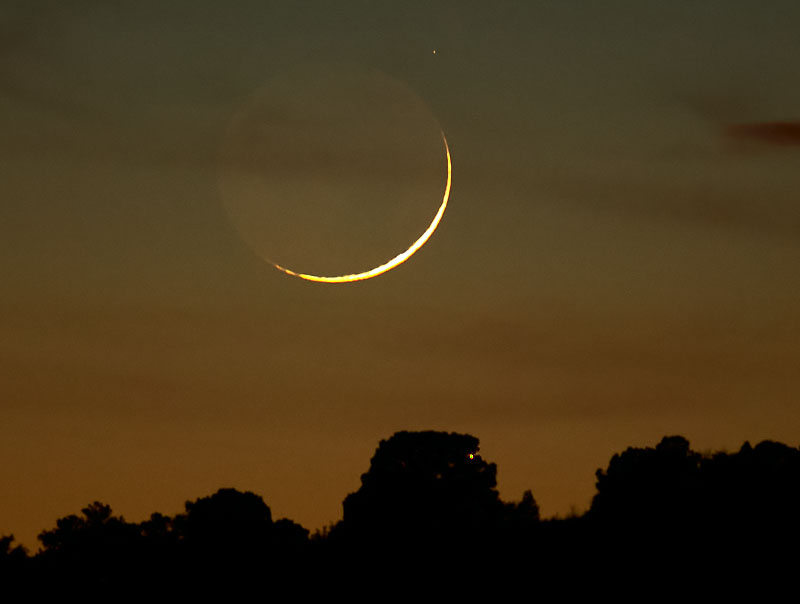 Moon & Mars
Look below and to the right of the moon, in the trees, for Mars in this shot from the Davis Mountains December 6, 2010. For the record the moon was about 1.9% lit, and that's a star in Sagittarius above-right of the moon. This was 1/3 sec at ISO 1600 through a tripod-mounted Nikon 300mm f4 lens on the Nikon D200.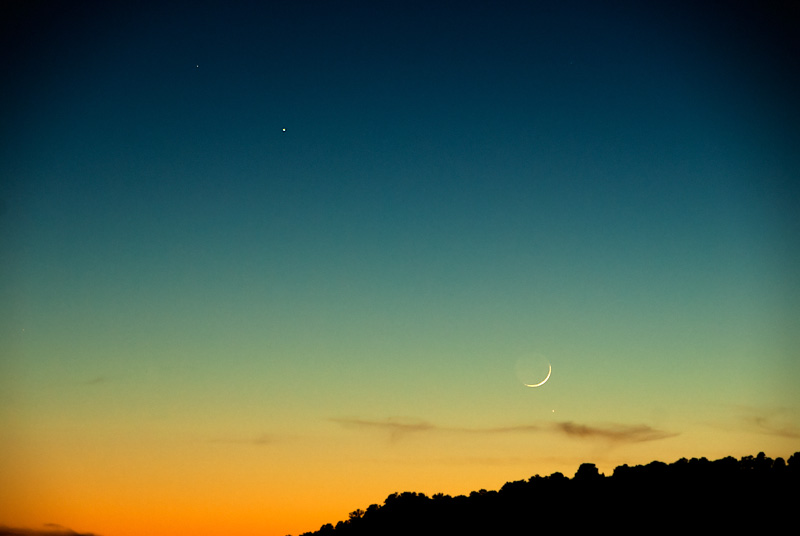 Mars, Moon, Mercury Line Up
Mars, the Moon, Mercury, and a star in Scorpius from lower right to upper left in this shot from the Davis Mountains December 6, 2010. Mars had emerged from behind the moon about 1 hour before. This happened in the daylight there so couldn't see it. Photo Details: tripod-mounted Nikon D200 camera and 18-200 lens at 105mm, 1/3 sec, ISO 1600.
| | |
| --- | --- |
| Main West Texas Astronomy Pictures Page Is Here | West Texas 2010 Scenic Pictures |
| October 2008 Astronomy Images, including interesting moon shots. | |
| Cactus Flowers | All West Texas Scenic Photography |
| | |
April 2010 West Texas Pictures
Main West Texas Scenic Picture Page is here
Dick Locke's Astrophoto Gateway page....
Images Home

Contact and Image Use Information


Imaging Notes from the trip. Temps are important to allow matching of "dark frames" to a set of pictures. My new camera allows setting of an absolute temperature, which greatly simplifies dark matching!
Nite 1 56 degrees.then 60 and windy, fat stars?
Nite 2 cloudy start 45 degrees 41 at 10. At11 Temp 37 deg
Nite3, 46deg at 6:00 p.m, 38 at 8:08,34deg 10:40, 33 midnight, 41 at 2:10a.m.,check focus
Nite 4, 49 deg at 7:30, 46 deg at 9:15, 54 deg at 11:34 and 1:30.
Nite 5 Dec 7 50 deg at 7:00, 48 at 8pm, windy, 45 deg 10:15, 40 deg midnight, 37 at 1:20 and 2:20
Nite 6 Dec 8 48 deg at 6:30 Watch early 169ís due to tracking issues..46 deg 9:30, 43 at midnight
Tracking problem 1:05, 45 deg, 48 at 3:45
Oly 21mm f5.6 start 7:45 p.m. trails, same with Nikon 14mm f5.6, close 3:45
Nite7 Dec 9 55 deg at 6:42, and 8:04, transparency poor 11:11, dec tracking problems, 57 deg, 54 at 12:41, camera failure for about 1 hour so missed flame, 57 degrees at 1:30
Nite 8 Dec 10 Cloudy start 58 degrees for DSLR Darks at 7:21
Flaming star rotated to about 90 deg