Family Pix
All images on this web site Copyright © 1998-2008, Dick Locke. All Rights Reserved. Contact and Image Use Information
This is my web page for miscellaneous pictures of the family, the cats, etc.
2017: Pictures and Tribute to my father, the late Richard Thomas Locke
Newly unearthed!
| | |
| --- | --- |
| Dick and Shirley in Austin many moons ago, Madeline was the photographer. | Dick (sr.), Rita, and Madeline in Michigan |
| Shirley, DB, and Beek in Leakey, TX. Shirley is misbehaving, as usual. | Madeline on the riverwalk in San Antonio |

Dressed Up for the Dance: 09-18-04

The Full Dress

Madeline Gets Some Air

1/100sec f2.8, 80-200mm f2.8D lens, Nikon D100 at ISO 800. Shot in very low light with curves adjustment in Photoshop. Used both Neat Image and Grain Surgery noise reduction tools. This is about a 50% crop.


Madeline from 2003

2004
Annie Jr. Summer 2004

Older Family Pix
Madeline A Blast from the Past
Piano & Music
Madeline Music
Madeline: Color, Grey, RGB
Dick & Shirley
This is a nice picture of myself & my lovely wife!
Happy Holidays 2003!
Happy Holidays 2004!
Main "Happy Holidays" Page
Old Photo gallery below...

Madeline in a Mirror
Madeline watching TV in our bedroom. I'm on the left taking the pic with my xtra-wide angle lens. Bounced the flash off the ceiling.

El Gato

Bit with Tongue
Bit up close & personal.

Bit in Bed
Bit's all tucked in (in Madeline's doll crib)

Madeline chillin' in the chair.

Menz Sweaters, Christmas, 2002

Madeline's 13th birthday party... Fun with squirt guns.

Loves getting the presents...

Trying on a necklace...
See the Corpus Pix here (more family!)
Older: Madeline at the pond. (Tokina 17mm lens, polarizer, Olympus 2s camera)


Madeline, Candle-Lit @ Christmas Service (B&W)
Madeline taking part in a Christmas Service
Walkers, 2004, Pictures Batch 1
Walkers, 2004, Pictures Batch 2
Shirley's 50th Birthday Party Pictures
Below: Marie from N. Dakota in the flowers!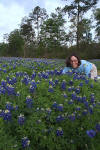 Copyright © 1998-2006 by Dick Locke. All Rights Reserved. Contact and Image Use Information